Tires are often overlooked by car-enthusiasts and everyday drivers alike. While tires may not be as flashy as custom rims, this crucial element of your car is worth having a solid understanding of, as well as the many options you have to choose from. Some tire companies are known for their racing tires, while others are known for standard highway driving tires. Regardless of your intention for your vehicle, there is an option out there for you, and before you search for a tire shop near me, you should do your research into tire brands. The following will serve as a tire brand guide to the top 10 tire brands available today.
10. Cooper
Cooper Tire and Rubber Company is a solid contender as a top tire manufacturer. It is a company based in the United States that specializes in manufacturing tires for automobiles and trucks. Cooper's slogan is "The tire with two names; the company and the man who built it."
Cooper tires are best known for being competitively priced and providing a wide range of specialized tires. Their products are widely available and well-known. Cooper tires tend not to last quite as long as their competitors, but the company has a long history of providing consistent models at a reasonable price.
9. Hankook
Hankook is a Korean company that was originally founded in 1941 during the Japanese occupation as the Chosun Tire Company. However, in 1953, soon after the creation of an independent Republic of Korea, the company was renamed as the Hankook Tire Company. Hankook translates to "Korea" and represented the new nation. Since those early days, Hankook has built a worldwide reputation as a quality provider of all types of tires for everything from trucks to performance cars.
The tread pattern on Hankook tires is quite aggressive, giving them grip on a variety of surfaces such as snow and mud. Hankook tires are known for lasting for a long time, even through rigorous use on rough surfaces. Because of the aggressive tread pattern, Hankook tires will often make a loud noise at higher speeds. Overall, Hankook tires are great for those who drive on slippery or unstable surfaces often, but may not be the best tire for traveling long-distances regularly.
8. Bridgestone
When crafting a top 10 tire brand guide, we have to mention the Bridgestone, which is one of the most successful Japanese tire brands. Although the name Bridgestone may sound American, it is actually an English translation of Ishibashi – the family name of the company's founder. However, Bridgestone actually has American heritage as well, thanks to its 1988 purchase and subsequent merger with the Firestone Tire Company.
This merger made Bridgestone one of the largest tire manufacturers in the world. It also allowed the company to enter the motorsport industry, which remains a vital component of Bridgestone's business to this day. However, Bridgestone continues to produce tires for all types of cars and terrains. It is particularly well known for its Blizzak line of winter tires, which provides exceptional traction on slippery surfaces. Bridgestone tires are not too expensive or cheap, and the company serves as the middle ground between many of the other companies on this list.
7. Yokohama
Yokohama is another famous Japanese tire brand, and this one actually sounds Japanese – Yokohama is the second-largest city in Japan and the location of the company's headquarters. Founded in 1917, Yokohama tires actually began as a partnership between Yokohama Cable Manufacturing and the American tire company BF Goodrich. Like Bridgestone, Yokohama is now a global company with deep ties to the racing industry.
While Yokohama tires may not be the cheapest on the market, the company is well-known for incorporating innovative techniques and technology into their products. One of the most interesting innovations from Yokohama was the first-ever use of nano-technology to improve tire performance. This cutting-edge design enhanced both traction and comfort, producing a truly remarkable tire. Yokohama tires are a good option for those who have extra money to spend on tires that will last for longer than many competitors.
6. Dunlop
Dunlop is a famous tire brand with a long history in the UK. In fact, its founder, John Boyd Dunlop, actually invented the air-filled pneumatic tire back in 1888. While it may not be the industry leader it once was, Dunlop has been producing high-quality products for over 130 years and is still a name to rely on. Today, Dunlop is mostly known for being affordable and reliable. When you buy a set of Dunlop tires, you know that you are getting quality rubber than you can rely on in any situation.
5. Continental
In another somewhat confusing name, Continental hails from Germany. It is actually one of the oldest tire manufacturers in the world, dating all the way back to 1870. This long history contributes to some of the best tires on the market, and Continental's products are thoroughly top-tier.
While Continental tires got its start with plain tread in the late 19th century, they were actually the first company in the world to produce treaded tires. Today, some of the most well-known all-season tires belong to the Continental brand, with products such as the Continental TrueContact, ProContact, and ExtremeContact. The tires provide impressive traction on wet, dry, and wintery roads.
4. BF Goodrich
Goodrich is an all-American company that shares its 1870 founding date with Continental, making it the oldest tire company in America. However, its tire manufacturing arm, BF Goodrich, was actually sold to Michelin in 1989 so that the parent company could focus on the aerospace industry. However, the fact that Michelin, the world's leading tire manufacturer, choose to acquire BF Goodrich is all you need to know about this brand's quality.
BF Goodrich tires can be found on all manner of vehicles, including race cars and rally cars. Its reputation for rally performance is a result of the company's focus on off-road tires of all types. Currently, BF Goodrich produces a wide array of tires for various off-road purposes, such as the Mud-Terrain T/A and Krawler T/A models. While the road tires produced by this company may be in-line with any other premium brand, BF Goodrich is a go-to option for off-road enthusiasts.
3. Goodyear
Founded by Frank Seiberling in 1898, Goodyear is actually named after Charles Goodyear, the inventor of vulcanized rubber. Based in Akron, Ohio, Goodyear is the largest tire manufacturer in America and stands side by side with giants like Bridgestone, Continental, and Michelin. Among its most famous innovations was the invention of the tubeless tire early in its history.
Where Goodyear tires truly excel is in consistency. These tires are durable, and you can count on having good tread life no matter your vehicle type. Secondly, virtually every Goodyear tire model provides above-average handling and traction in every scenario, ranging from wintery surfaces to gravel to muddy terrain.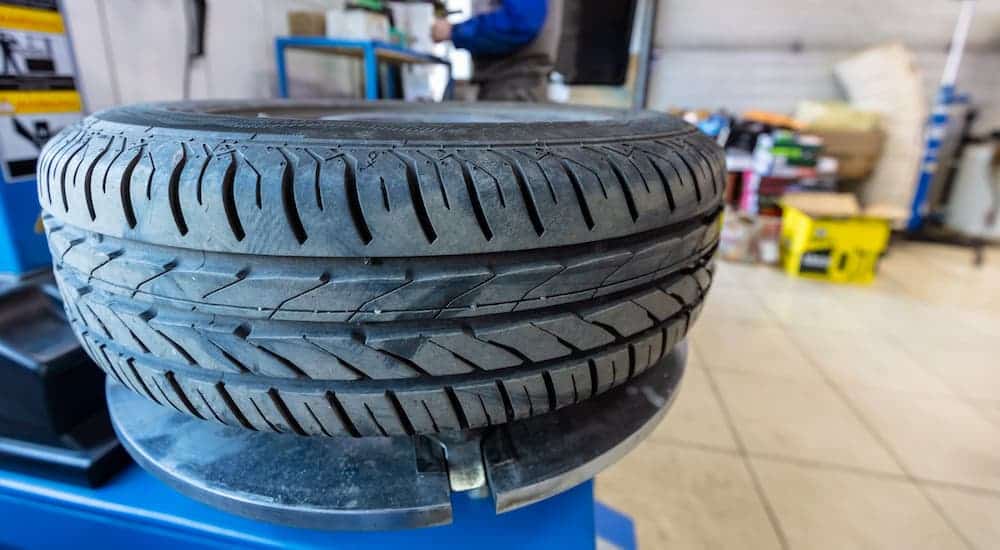 2. Pirelli
Pirelli was founded in Milan in 1872 by Giovanni Battista Pirelli. However, since 2015 it has been controlled by the Chinese state-owned ChemChina. While Pirelli may not rank among the very largest tire manufacturers, its products have an outstanding reputation in high-performance applications such as racing.
Pirelli tires are best known for their responsiveness and ability to provide control over powerful vehicles. It is for these reasons that the tires are often on luxury vehicles and racecars. The company produces extremely high-end tires, but at a high price to compensate for the quality.
1.Michelin
While it is not the oldest tire manufacturer, Michelin is the largest and best known. It is an internationally-recognized French tire brand and was founded by the Michelin brothers, Edouard and Andre Michelin, in 1889. Michelin tires are industry-leading, and the company has been responsible for countless innovations over the years
Michelin is best known for its use of top-grade rubber to deliver outstanding performance and fuel economy on every tire. Its tires are quite expensive, but you know that you will get your money worth. The tires have a reputation for having great endurance and superior handling on all surfaces. Michelin lands in the top spot because of their world-class reputation for having consistency and quality in their tires, and for routinely showing the ability to outlast the products of its competitors on the road.
Conclusion
There is a lot of competition in the tire industry. As technology advances, tire companies are pressured to make their products last longer on the road and handle better in the variety of conditions that drivers must traverse. Hopefully, this tire brand guide was able to provide a general understanding of the top brands that you will see regularly, and if you find yourself searching for a tire shop, you will know the history and reputation of the products you see in the store.